The objective of Talk&Brew is to empower employees with an empathetic approach to

communicate warmer and build soother relationship while having a tea break.

Through the service 
journey users can identify their feeling and causes behind. Further more they can share the experience with others to enhance the quality of relationship and expand the healthy vibe to company culture, in order to reduce stress.
Ag

ency: 
Alpha Telefonica, Royal College of Art
Team Credit:

Hyejin Lee, Jina Kim, Runa Yu
My Role:
Service Design, Graphic Design
Time:

 Sep 2019 - July 2020 
Talk&Brew started from Telefonica Alpha Health to explore future service visions on mental health, wellbeing and happiness. 
Working with

 
Stress is a global issue that increases the risk of developing disorders and illnesses. 5,000+ workers in the U.K every year end their life.

So how can we help people to manage their stress
while working 
and make a balance their life?

 And how can we design for this?
We reviewed how companies manage their workspace to reduce stress for employees and interviewed individuals at start-ups, co-working spaces and multi-disciplinary teams to break down the cause of work stress. 
From visiting, greatest stress cause we found came from relationship with people. Relationships can be bad and good. Therefore, relationship can be the biggest stressor but at the same time it can be a way to help and overcome stress.
​​​​​​​
However, we found out majority of organisations focus on isolation rather than loneliness in relationship. In order, we narrowed down and unraveled loneness as a key problem of working with stress which 68 percent of people who feel lonely at work said it is a critical driver of stress.
​​​​​​​​​​​​​​
We found opportunity in drinking tea as physical side, emotional intelligence as a behavioural side along with early intervention as mental side. Also for companies perspective we fo

und The inverted-U relationship between pressure and performance that

 optimum level of stress can make employers performance on the best area. 
We brought various specialists from various organisations together, including psychologist, tea vendors, smart vending retail company. 
So our question was 
How might we make employees be able to 
manage emotions 
and improve communication skills resulting to building and sustaining good relationships and changing work environment?
Throughout Discovery, prototyping we identified users' needs, designed and tested potential solutions, iteratively developed Talk&Brew kit, and continuously improved the service from data analysis and user feedback. 
Talk&Brew was aimed to help people to build good relationships at work through genuine communication with empathy through service design. As an internal and external communication enhancement service, a tea break help them to perceive, manage emotions and communicate warmer. People can identify how they feel, what causes it and share with others to understand better and improve together by taking a tea break at work.
​​​​​​​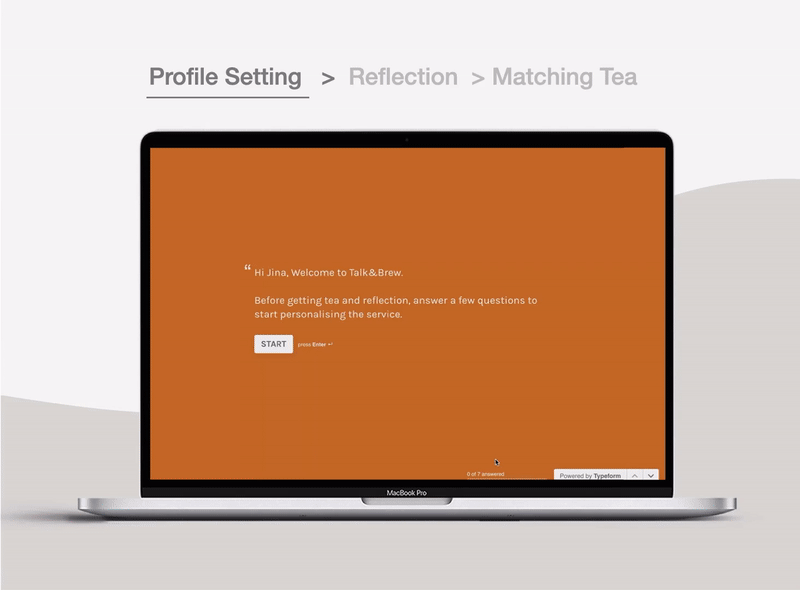 Through the pop-up store and Talk&Brew kit at work, people can use a tea break to understand the needs of their relationships as capturing emotions and situation. The barista prepares the matched tea for individuals and teams with beautifully designed cups speaking out what we need. This enables people to understand how others think and feel and let them speak out issues they have.